Family Owned
---
Since 1932, White River Fish Market & Seafood Restaurant has been selling and serving fish as good as anything you will find along the seashore with a line out the door to prove it!
O.T. Fallis, the founder, and owner for almost half a century opened the White River Fish Market in 1932 and added the restaurant a decade later. Garry Cozby, a native Texan, bought the business in 1981 and continues the tradition of providing a family-style restaurant where everyone feels at home. With so many years of experience under their waterlogged belts, it's no surprise that the recipes have been perfected. Today, White River is still the place to go for an informal fish feast at great prices for everyone.
---
"The best seafood place in town"
"The food is absolutely amazing"
"This really is Tulsa's best seafood."
"There is nothing fishy about the price; it's one of the best bargains in town"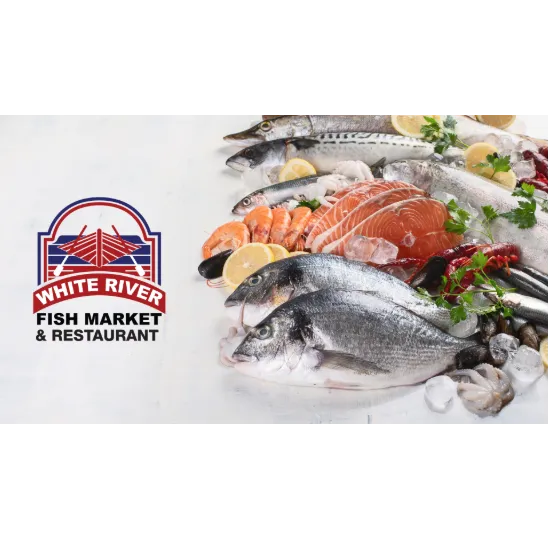 Specializing
in fresh seafood dishes and home-style recipes
White River Fish Market now has two locations, one Located in the middle of Tulsa, Oklahoma in a small strip mall surrounded by warehouses and light industry. The other location is located in Broken Arrow at the corner of 71st and Lynn Lane. The fish market is known for having the freshest fish around and its proximity to the Tulsa International Airport makes that possible by allowing seafood to be flown in from coastal cities all over both North and South America.
---

Seafood
Serving signature seafood dishes for almost 90 years

Wide Variety
Fresh seafood in the middle of America? You bet! Our selection changes often based on the season so stop in to check out our menu or order online

See the Quality
Our 12 foot display case allows visitors to see the quality of the seafood before it is prepared and visitors are encouraged to select the exact pieces to be prepared for their order.

Merchandise
All merchandise can be purchased instore. Koozie - $2.50 Hats - $10
T-Shirts - $10-$14